SASE According to Gartner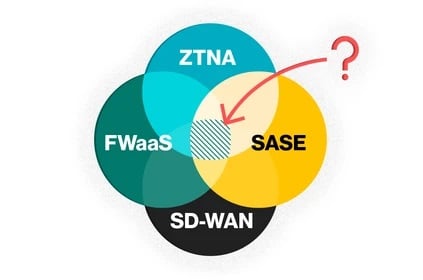 Gartner is a global research and advisory leader in the technology space dedicated to helping businesses make critical IT decisions. Its Magic Quadrants (MQs) drive many organizations' acquisition processes as they provide a clear and unbiased evaluation of the relative advantages and disadvantages of various technology solutions.
However, Gartner does not only perform evaluations of existing technology – it also looks to the future and provides organizations with guidance on how to build and secure the networks of the future. A few short years ago, when most of the IT world was only warming up to the idea of SD-WAN, Gartner was pioneering the concept of SASE (Secure Access Service Edge).
Today, SASE has become a buzzword as organizations look to adopt what Gartner calls "the future of network security". As businesses begin their journey towards SASE, Gartner has worked to ensure that organizations achieve the full benefits of SASE, providing a clear roadmap for SASE adoption.
The Components of SASE Architecture
SASE, according to Gartner, is defined as a global cloud-based service with a truly converged network security stack that supports all edges (not just branch networks). The primary components of a SASE Architecture include:
Software-Defined WAN (SD-WAN): SASE leverages the capabilities of SD-WAN to provide optimized network routing between SASE points of presence (PoPs).
Firewall as a Service (FWaaS): A firewall is the foundation of any network security stack. SASE includes FWaaS to provide strong protection with minimal overhead and management.
Zero-Trust Network Access (ZTNA): ZTNA (also called SDP) offers an alternative to legacy secure remote access solutions that embraces zero-trust policies and provides access to resources on a case-by-case basis.
Cloud Access Security Broker (CASB): A cloud-based security solution like SASE logically needs to provide security for cloud applications. CASB is integrated into SASE to monitor and secure access to cloud-based resources.
Data Loss Prevention (DLP): SASE leverages DLP to help protect against data loss and potential breaches by controlling the movement of data in and out of cloud applications.
Secure Web Gateway (SWG): SWG solutions protect users against malware, phishing, and other Internet-borne threats. SASE offers SWG protection to all users, regardless of their location.
Consolidated Management: Complex and disconnected security is one of the main challenges that SASE is designed to solve. SASE users should be able to monitor and manage all of their security solutions from a single pane of glass.
Achieving true convergence across all of these components is essential for an organization to fully achieve the benefits of SASE.
Gartner also defines the term "SASE alternatives" to describe solutions that check the boxes of SASE features without achieving the full convergence required by SASE. These solutions – often called "dual-vendor" or multivendor SASE – link point security products via APIs and service chaining. While these may have the same capabilities as SASE, they have poorer performance and are more difficult to manage than a true SASE solution.
Gartner's SASE Guidance Report
Since defining the term SASE in 2019, Gartner has included a SASE category in its Hype Cycle for Enterprise Networking report. Both years, Gartner listed Cato as a "Sample Vendor" in the space, recognizing that Cato SASE Cloud meets the criteria for a true SASE solution.
In addition to its Hype Cycle reports, Gartner has published a number of reports further defining the space and providing guidance to organizations looking to adopt SASE. The recent SASE Convergence Roadmap 2021 review outlines the steps that organizations should take when adopting SASE, including short-term and long-term goals for making the transition. The report also provides recommendations for selecting a SASE vendor.
Getting Started on Your SASE Adoption Journey
Gartner believes that SASE represents "the future of network security" and encourages all organizations to start their SASE adoption journey today. A good starting point for this process is learning more about what SASE is and what to look for in a SASE solution. Then, build and demonstrate your SASE knowledge and skills by earning Level 1 of Cato's SASE Expert Certification.
To learn more about SASE solutions and how to start your SASE journey, contact us. To see the capabilities of a true SASE solution and learn what Cato SASE Cloud can do for your organization, request a free demo.