Cato SASE Cloud Named "Leader" and "Outperformer" in GigaOm Radar Report for SD-WAN
February 7th, 2023
Comprehensive review of 20 notable SD-WAN vendors finds only Cato SASE Cloud to be Exceptional in all key criteria capabilities
Tel Aviv, Israel – Feb 07, 2023 – Cato Networks, provider of the world's leading single-vendor SASE platform, announced today that it was named as a "Leader" and "Outperformer" by GigaOm in the analyst firm's Radar for SD-WAN Report. This is the first year that Cato was included in the report, alongside 19 other notable vendors in the SD-WAN market. Despite Cato's "freshman" status, GigaOm rates Cato an Outperformer overall and at the top of the list in both Key Criteria capabilities and Evaluation Metrics.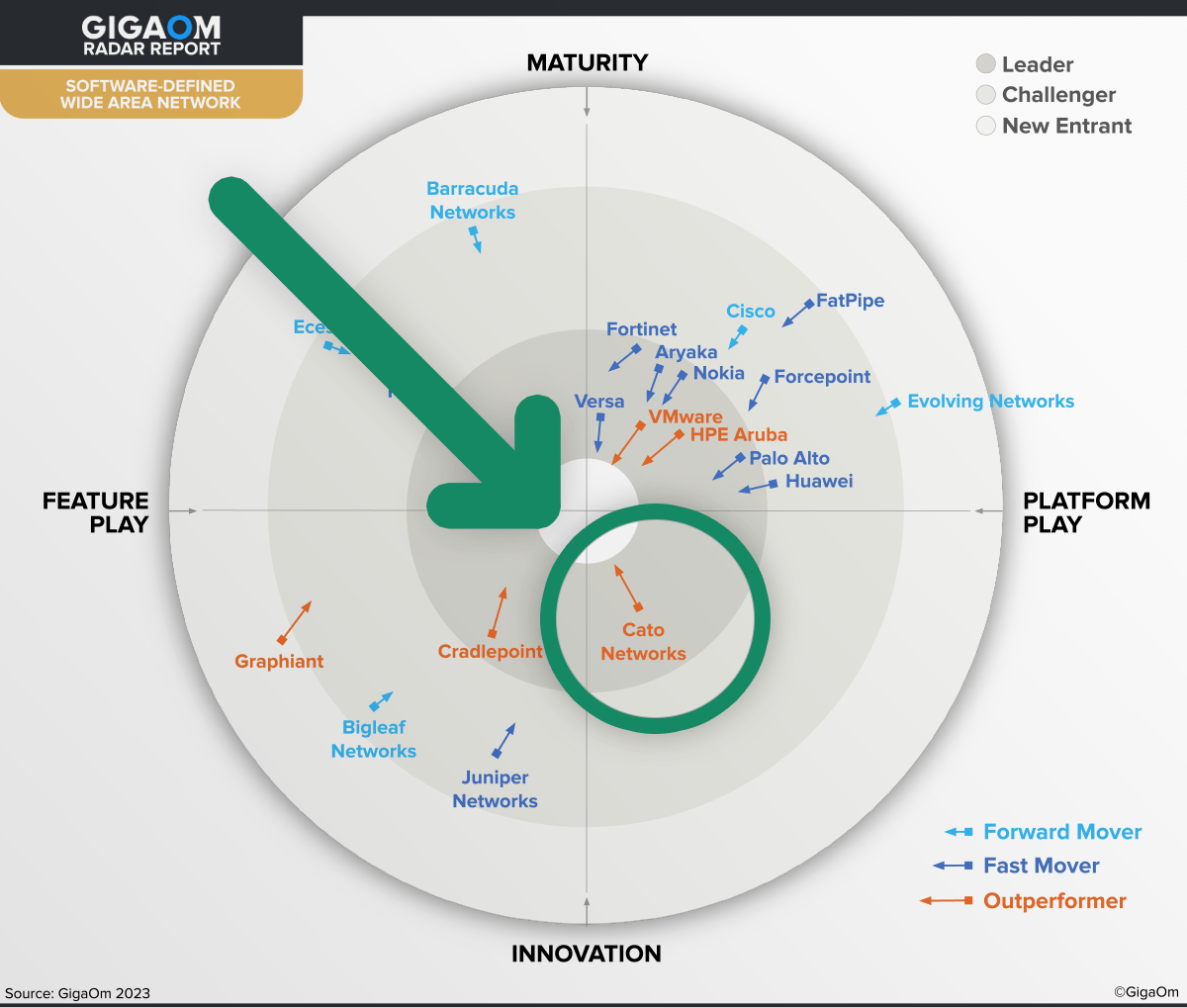 "GigaOm has made a thorough and practical evaluation of the market and we're honored that Cato has been named a Leader and Outperformer in the SD-WAN Radar Report," says Eyal Webber-Zvik, Vice President of Product Marketing and Strategic Alliances at Cato Networks. "Cato's leadership position underscores the strength and maturity of Cato SD-WAN and shows the importance of considering SD-WAN as part of a broader SASE offering."
Cato's SD-WAN is Rated Exceptional in Nearly Every Aspect
GigaOm outlined the "table stakes" features that are the baseline capabilities for SD-WAN vendors. Among them are a virtual overlay network, centralized orchestration, built-in resilience, integrated security, and dynamic traffic engineering. Beyond those features, the analyst firm evaluated vendors according to several key criteria considered to be differentiators as well as the primary features for customers to consider as they compare solutions. Cato Networks is the only one of 20 vendors rated as "Exceptional" in every category.
In a similar manner, GigaOm lists eight Evaluation Metrics that provide insight into the impact of each vendor's product features and capabilities on the customer organization, reflecting fundamental aspects, including infrastructure support, manageability, and total cost of ownership (TCO). Cato rated among the top 3 in GigaOm's Evaluation Metrics, scoring "Exceptional" in 6 of the 8 categories.
SPACE: The Cato Differentiator
GigaOm attributed this achievement to Cato's unique architecture, the Cato's Single Pass Cloud Engine (SPACE). "Cato SASE Cloud is a converged cloud-native, single-pass platform connecting end-to-end enterprise network resources within a secure global service managed via a single pane of glass," says the report.
"By moving processing into the cloud using thin edge Cato Sockets, Cato SASE Cloud is easier to maintain and scale than competitive solutions, with new capabilities instantly available. Leveraging an expanding global SLA-backed network of over 75 PoPs, Cato is the only SD-WAN vendor currently bundling a global private backbone with its SD-WAN. Moreover, Cato offers both a standalone SD-WAN solution and a security service edge solution – Cato SSE 360 – for securing third-party SD-WAN devices."
About the GigaOm SD-WAN Report
The GigaOm Radar offers a forward-looking assessment, plotting the relative value and progression of 20 SD-WAN vendor solutions along multiple axes based on strategy and execution. The report assesses the current and projected position of each solution over a 12- to 18-month window.
To learn more and to download a free copy of GigaOm's Radar for Software-Defined Wide Area Networks Report, read this blog.
About Cato Networks
Cato provides the world's most robust single-vendor SASE platform, converging Cato SD-WAN and a cloud-native security service edge, Cato SSE 360, into a global cloud service. Cato SASE Cloud optimizes and secures application access for all users and locations everywhere. Using Cato, customers easily replace costly and rigid legacy MPLS with modern network architecture based on SD-WAN, secure and optimize a hybrid workforce working from anywhere, and enable seamless cloud migration. Cato enforces granular access policies, protects users against threats, and prevents sensitive data loss, all easily managed from a single pane of glass. With Cato, businesses are ready for whatever's next.