The role of the CIO has changed dramatically in the past years. Until now, CIOs had been focusing on ongoing IT management. But today, technology creates new business models and helps achieve business goals. This makes technology the defining pillar of business transformation. CIOs who realize this and identify the right opportunities for strategically leveraging technology, can transform their organization.
Let's look at five strategic projects that can help CIOs drive innovation and generate new revenue streams.
Project #1: Migrating MPLS or SD-WAN to SASE
Many organizations have replaced their MPLS with SD-WAN, or are in the process of doing so. SD-WAN emerged a few decades ago as a cost-effective replacement to MPLS, because it answers MPLS constraints like capacity, cost and lack of flexibility. However, SD-WAN does not provide solutions for modern requirements like security threats, remote work, global performance and cloud-native scalability.
SASE (Secure Access Service Edge) is the next step after SD-WAN. A Gartner-coined term, SASE is the convergence of SD-WAN, network security and additional IT capabilities into a global, cloud-native platform. Compared to SD-WAN and other point solutions, SASE ensures reliability, performance, security and connectivity.
In fact, according to Gartner's Hype Cycle of Network Security 2020 – by 2024, more than 60% of SD-WAN customers will have implemented a SASE architecture, compared to approximately 35% in 2020.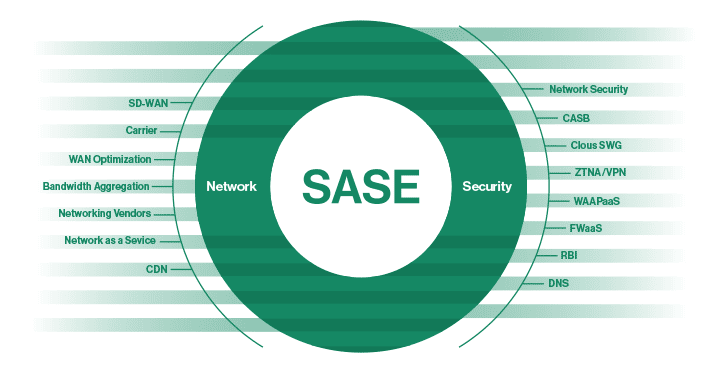 How CIOs Create Business Value with SASE:
By migrating to SASE, CIOs ensure all employees will always be able to connect via a secure, global and performance optimized network. With SASE, CIOs are also relieved from the complexity and risk of supporting the business with point solutions, which are often outdated.
Project #2: Building Cloud Native Connectivity
Cloud-native infrastructure, platforms and applications provide businesses with flexibility, scalability and customizability. They also increase the speed and efficiency of processes.
Technological advancements have enabled this transition, but it is the growing need for remote accessibility and global connectivity that is accelerating it. On-premises solutions can no longer answer modern business needs for performing business activities.
SASE is a cloud-native technology, providing businesses with all the benefits of the cloud and connecting all edges, branches, users and data centers.
How CIOs Create Business Value with Cloud Native Connectivity
By building cloud native connectivity across all edges, CIOs provide employees with optimized performance, security and accessibility to any required internal or external business application. Cloud readiness also enables agile delivery to customers.
Deploy your site in under 6 minutes with Cato SASE Cloud! | Check it out
Project #3: Implementing a Full Security Stack in the Cloud
Cyber attacks are becoming increasingly more sophisticated, widespread and with the potential to create more destruction. Coupled with the dissolvement of network borders, IT and security teams need to rethink their security strategy and solutions.
Existing point security solutions simply cannot keep up with all these changes. In addition, the overhead tax IT and security teams pay for finding, purchasing, managing, integrating and updating various security solutions from numerous vendors is very high.
A converged security solution implements innovative security models, like ZTNA (Zero Trust Network Access) alongside security measures like threat prevention and decryption. In addition, it is automatically updated, to ensure it can thwart CVEs and zero day threats.
How CIOs Provide Business Value with Full Stack Cloud Security
By implementing a complete security stack in the cloud, CIOs provide the company's employees and customers with the confidence that their information is secure and accessible only to authorized users and services. In addition, IT and security teams regain peace of mind to operate with confidence and stress free.
Project #4: Enable Access to All Edges
Working remotely from home, the road or a different office is becoming increasingly popular, and is turning into a working model that is here to stay. In addition, the global distribution of networks has also introduced many new entry points to business systems. But, traditional access capabilities are not designed for these types of connectivity models.
SASE provides dynamic and secure access through global PoPs (Points of Presence). Traffic from remote users, data centers, applications or other edges is automatically detected and sent to the nearest PoP. There, it is authorized and then given access.
How CIOs Provide Business Value with Global Access to All Edges
By providing users with secure access while ensuring first-class citizen performance, CIOs become enablers for business agility and speedy deliveries. The freedom and flexibility to work from anywhere and connect to anywhere power new opportunities for business initiatives. In addition, they provide employees with working conditions fit for modern life and ensure they will not look elsewhere for an employer that enables working remotely.
5. Optimize Routing with Global Connectivity
Businesses today route high volumes of traffic, from globally dispersed employees and other edges. Performance optimization is essential for connectivity and communication so employees can get things done. However, the Internet is too erratic to be relied on, and SD-WAN providers are forced to integrate with third party backbone providers for such optimization.
SASE solutions provide a global backbone and WAN optimization, serving IT and security capabilities to all users and accelerating east-west and northbound traffic to the cloud.
How CIOs Provide Business Value with Optimized Global Connectivity
By ensuring low latency and optimized routing, CIOs are fulfilling a key requirement for business agility. From video streaming to accessing information to transferring data, optimized routing facilitates and powers business activities.
How to Get Started
Looking at this list might be daunting at first. However, all these projects can be achieved through the implementation of SASE. SASE converges network and security point solutions into a single, global, cloud-native platform that enables access from all edges. Therefore, it provides a single and streamlined answer to all network and security needs, now and in the future.
Cato is the world's first SASE platform. Using the Cato SASE Cloud, customers easily migrate from MPLS to SD-WAN, improve connectivity to on-premises and cloud applications, enable secure branch Internet access everywhere, and seamlessly integrate cloud data centers and remote users into the network with a zero-trust architecture. With Cato, your network and business are ready for whatever's next. Start now.
You can read more from the following resources: