Networking and Security Teams Are Converging, Finds Cato Networks Survey  
October 17th, 2023
82% of respondents say security and networking teams are consolidating or have a management directive to improve collaboration.  
TEL AVIV, Israel, Oct. 17, 2023 — Cato Networks, provider of the world's leading single-vendor SASE platform, today announced the findings of its 2023 SASE Adoption Survey. The survey of 1,694 IT leaders worldwide finds that management expects networking and security teams to work closer together, if not outright converge. Further survey observations shed light on SASE adoption, distribution of applications in the cloud and on-premises, the persistence of hybrid work, and how IT is evolving to address modern infrastructure challenges.
"The convergence of networking and security teams in organizations is no longer an afterthought. It is an action that IT leaders are embracing and adopting," said Eyal Webber-Zvik, Vice President of Product Marketing and Strategic Alliances at Cato Networks. "As organizations strive to combat today's cyber threats, enriching security operations with network visibility and intelligence is essential. Respondents in our 2023 Cato Networks SASE Adoption Survey confirmed that and more."
Security and Networking Teams Converge for Improved Operations
A vast majority, 82% of respondents, indicated that security and networking teams are consolidating or have a management directive to improve collaboration. When we asked respondents how their organizations divide network and security management responsibilities, nearly 24% indicated that security and networking responsibilities were handled by one team.
A case in point is Carlsberg, the world-renowned brewer, which has consolidated network operations and security under the responsibility of Tal Arad, the CISO and Head of Technology at Carlsberg. "For Carlsberg, networking and security operations are ultimately about the same thing: ensuring the beer keeps flowing. Blurring the lines between networking and security people, I think, is the right way to achieve that goal," says Arad.
"Converging networking and security teams lets us eliminate the turf wars that have so long plagued IT. We can identify and act on potential back doors created by network changes and identify operational issues in security changes far faster because security and networking personnel pull together as a single team."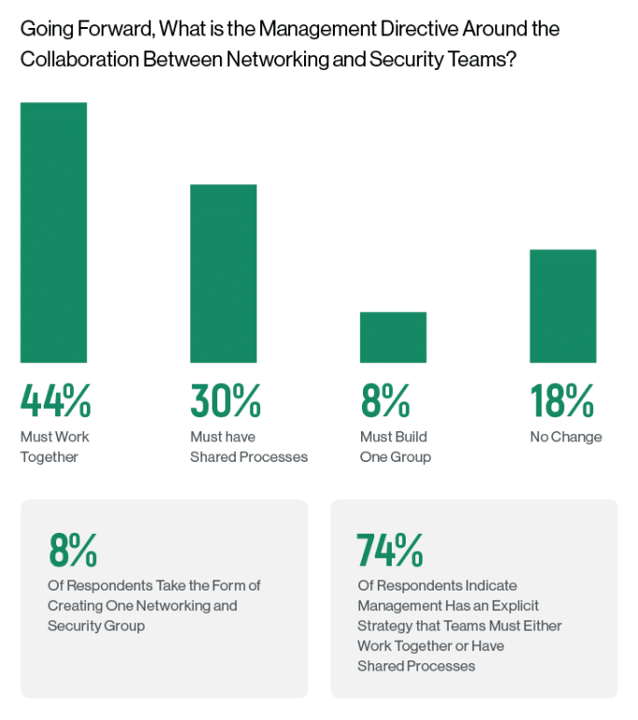 Team Convergence Driven by Difficulties Working Together
Collaboration difficulties between networking and security teams aren't new, and those challenges persist. 48% of respondents report occasional problems or outright turf wars between security and networking teams. It's no wonder that management is driving alignment among teams.
Respondents Prefer a Unified Platform for Security and Networking
As the teams come together, they prefer to use a single, unified platform for their respective roles. While most organizations today (68%) currently use different security and networking management and operations platforms, that's likely to change, with 76% of respondents believing that using one platform for both purposes would improve collaboration between the networking and security teams.
"The fact that I can use a single console to manage everything, and my team can know, almost within a blink of an eye, what's going wrong and where, is a huge advantage for us," says Arad.
Security More Often Leads the SASE Acquisition Teams
Regarding forming a SASE selection committee, 47% of respondents say it's a security team project with the networking team involved as necessary. Another 39% flip that script, with the networking team leading the project and involving the security team to vet the vendors.
Download the survey results here to learn more about SASE adoption, and networking and security organizational changes.
Digital Assets
Supporting Resources
About Cato Networks
Cato provides the world's most robust single-vendor SASE platform, converging Cato SD-WAN and a cloud-native security service edge, Cato SSE 360, into a global cloud service. Cato SASE Cloud optimizes and secures application access for all users and locations everywhere. Using Cato, customers easily replace costly and rigid legacy MPLS with modern network architecture based on SD-WAN, secure and optimize a hybrid workforce working from anywhere, and enable seamless cloud migration. Cato enforces granular access policies, protects users against threats, and prevents sensitive data loss, all easily managed from a single pane of glass. With Cato, businesses are ready for whatever's next. 
# # #
For more information, contact (media only):
Kevin Petschow