Cato Networks Wins UX Award for Design of SD-WAN Management Application
December 6th, 2017
TEL AVIV, Israel, December 6, 2017 — Cato Networks, provider of Cato Cloud, the world's first secure, global SD-WAN as a service, announced today that it's been awarded a UX Award, the premier award for user experience (UX) design. This is the first time an SD-WAN provider has won a UX Award, and together with recent enterprise wins and strong channel adoption, attests to the transformative power of the Cato Cloud.
The UX Awards are dedicated exclusively to showcasing the best in user experience. They are a community-driven, independent awards for the UX profession with full transparency in the judging process.  Awards are selected by public crowd-voting and a rotating panel of expert judges from the top designers in the industry.
"The Cato Management Application was designed to simplify the way companies manage their network and security policies," says Eyal Webber-Zvik, Director of Product Management for Cato Networks. "We decided to diverge from other management interfaces and built a new and exciting user experience that allows any IT professional, novice or advanced, to manage a complex enterprise network and security environment."
UX is just a start: the "easy" end-to-end customer experience
Cato Networks is redefining the IT networking and security experience. For too long, IT managers have struggled with the evaluation, procurement, deployment and management of their network services. Cato Networks has changed all of that with the first secure, global SD-WAN as a service.
"We tried another SD-WAN provider, but the management console was very complicated. You needed training on it just to run the reporting," says Kevin McDaid, Systems Manager at Fisher & Company, a manufacturer of automotive components "With Cato Management Application, any tech can administer the network. It's that simple."
Cato brought the usability of cloud services to SD-WAN. Companies can easily try Cato's award-winning SD-WAN service before purchasing. Procurement and deployment can be done in minutes, not weeks. "Transitioning to Cato was so easy. I joke that it was like pressing the Staples' Easy Button," says Leslie W. Cothren, Information Technology Director at Universal Mental Health Services (UMHS), a comprehensive community human service organization. "Cato gave me their Cato Sockets and set up the static IP addresses, I plugged them in and things just started working."
The Cato Management Applications is part of that story, making managing the network and security infrastructure easy and intuitive. The result: companies can invest resources in driving the business knowing the network is agile and efficient enough to support new initiatives and rapid growth.  
"It's time network service providers got out of the way of IT and provided services that just worked," says Shlomo Kramer, co-founder and CEO of Cato Networks, "At Cato, we're helping customers transform their networks by converging networking and security into the cloud and creating unsurpassed simplicity and agility at an affordable cost."
To learn more about Cato Cloud visit here.
About Cato Networks
Cato Networks provides organizations with a cloud-based and secure global SD-WAN. Cato delivers an integrated networking and security platform that securely connects all enterprise locations, people, and data. Cato Cloud cuts MPLS costs, improves performance between global locations and to cloud applications, eliminates branch appliances, provides secure Internet access everywhere, and seamlessly integrates mobile users and cloud datacenters into the WAN. Based in Tel Aviv, Israel, Cato Networks was founded in 2015 by cybersecurity luminary Shlomo Kramer, co-founder of Check Point Software Technologies and Imperva, and Gur Shatz, co-founder of Incapsula. Visit www.catonetworks.com and Twitter: @CatoNetworks.
SOURCE Cato Networks
Contact (media only):
Dave Greenfield
press@catonetworks.com
Cato Management Application: Enterprise Network Overview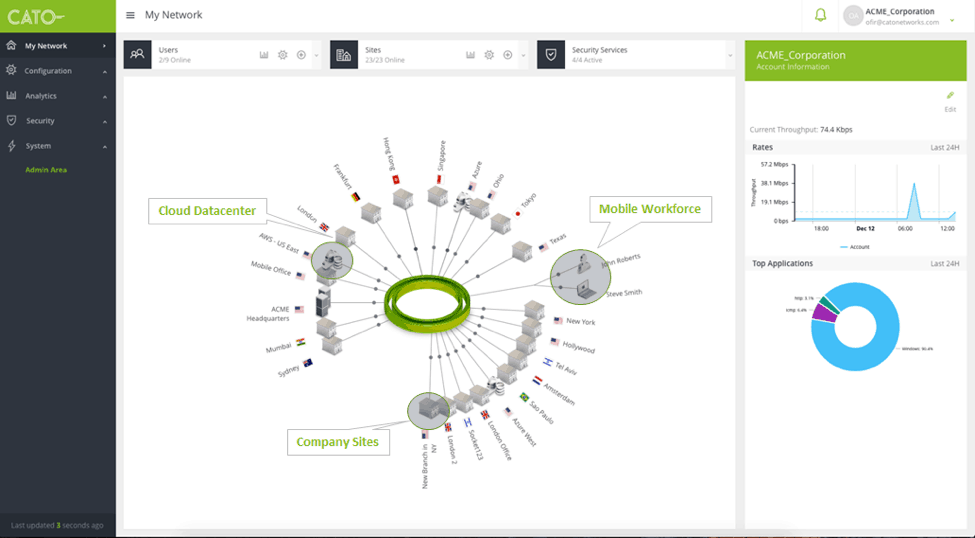 Cato Management Application: Unified Analytics View
Check out our 2 minute Cato Management Application demo: